Centuries of Scotland's history have been colored
by struggles for political freedom and religious liberty.
In days past, the two were often intertwined.
Bannockburn

and

Robert the Bruce
King of Scots
"We fight not for glory, nor for wealth, nor honour
but only and alone we fight for freedom,
which no good man surrenders but with his life."
Robert the Bruce, King of Scots, planted his standard in the fields of Bannockburn on 23 June 1314. Eight thousand starving Scottish patriots rallied to his side, defying an English army of twenty thousand and vanquishing the oppressor, Edward II of England, in two days of fierce battle. Bruce, the warrior king, inspired an entire nation. Seven years after their great victory, faced with continuing threats of English invasion, Scots gathered at Arbroath on 6 April 1320 and declared, "... as long as but a hundred of us remain alive, never will we on any conditions be brought under English rule. It is in truth not for glory, nor riches, nor honours that we are fighting, but for freedom – for that alone, which no honest man gives up but with life itself."
"Scots wha hae wi' Wallace bled, Scots wham Bruce has often led,
Welcome tae your gory bed or tae victory.
Noo's the day an' noo's the hour. See the front o' battle low'r.
See approach proud Edward's pow'r ~ chains an' slavery.
Wha would be a traitor knave, wha can fill a coward's grave,
Wha sae base as be a slave ~ let him turn an' flee.
Wha for Scotland's king an' law, freedom's sword will strongly draw.
Free man stand or free man fall, let him follow me.
By oppression's woes an' pains, by your sons in servile chains,
We shall drain our dearest veins, but they shall be free.
Lay the proud usurper low, tyrants fall in every foe.
Liberty's in every blow ~ let us doo or dee."
Robert Burns
Culloden
| | | |
| --- | --- | --- |
| | | Here in April 1746, 400 years after Bannockburn, Bonnie Prince Charlie lost all hope of gaining the throne of his Stewart ancestors. The Highland army was no more than 5,000 in number, had been two days without sleep, and had scarcely eaten in the same span of time. Not only so but they were unaware before arriving at Culloden that the man who farmed there had built extensive turf dikes, which held the recent rains and turned the fields a boggy mess on which weary, starving foot soldiers were at a distinct disadvantage. |
The English victory at Culloden was hardly one of which to boast, and the behavior of the victors after the battle's end was appalling. The English used their muskets as clubs to dash out the brains of the wounded and sprinkled one another with Scottish blood. Then, once sated with blood, they casually dined upon the field where the dead still lay.
In the 1820s, descendants of Highlanders who had died at Culloden placed rough memorial stones where various clans had fallen and were buried in mass graves. In addition to stones for the MacDonalds and other clans is a stone where many fallen highlanders whose families and clans were unknown lie buried together. In 1881, Duncan Forbes of Culloden erected at Culloden the large cairn seen above to memorialize all the Highlanders who had fallen. It includes a plaque which reads ...
"The Battle of Culloden was fought on this moor 16th April 1746.
The graves of the gallant Highlanders who fought for Scotland & Prince Charlie, are marked by the names of their clans."
After Culloden, everything about the Highland way of life was banned - the claymore, the bagpipe, and even the wearing of tartans. While one may lament the end of a way of life and abhor the brutality which which the Highlanders were treated, it was providential that they lost this, their last great battle for Scotland. Their would-be sovereign would have imposed on the entire nation a single religion. Fortunately, the ban on tartans was lifted in 1782, and in 1843 Queen Victoria appointed the first "personal piper to the Sovereign" of Great Britain. Today, Scotland again has her own Parliament to govern domestic affairs, and it is hoped that one day the political battle for full Scottish independence may be won.
I returned to the fields of glory
Where the green grass an' flowers grow,
An' the wind softly sings the story
of the brave lads of long ago.
In the great glen, they lie a-sleeping,
Where the cool waters gently flow,
An' the grey mist is sadly weeping
For the brave lads of long ago.
See the tall grass is there a-waving
As their flags were so long ago;
With their heads high, were forward braving,
Marching onwards to meet the foe.
March no more, my soldier laddie,
There is peace where there once was war.
Sleep in peace, my soldier laddie.
Sleep in peace now, the battle's o'er.
Author Unknown
| | | |
| --- | --- | --- |
| | The Robert Burns Monument | |
In his too brief lifetime, the Bard of Scotland wrote hundreds of heroic, romantic, or humorous songs and poems about his native land and people. The best known, of course, is "Auld Lang Syne." The most stirring, however, must be "Scots Wha Hae," which celebrates the valor of the Bruce and his Scots at Bannockburn. Burns himself gives an account of the inspiration for the song :
I am delighted with many little melodies which the learned musician despises as silly and insipid. I do not know whether the old air Hey tutti taittie may rank among the number; but well I know that with Frazer's hautboy* it has often filled my eyes with tears. There is a tradition that I have met with in many places in Scotland that it was Robert Bruce's march at the Battle of Bannockburn. This in my yesternight's evening walk ... warmed me to a pitch of enthusiasm on the theme of liberty and independence, which I threw into a sort of Scottish ode fitted to the air that one might suppose to be the gallant Royal Scot's Address to his heroic followers on that eventful morning.

* an archaic word for oboe
Robert Burns dearly loved his Scotland, and was so loved in return that the village where he was born began planning its monument to him a mere seven years after his death. Within five years more, sufficient funds were raised that construction could begin on his birthday in 1820. Finally, the monument was opened to the public in 1823. It is now surrounded by the lovely Burns National Heritage Park, which spreads over several city blocks and includes gardens, a museum, a 16th century church, and the 1757 cottage where Burns was born.
For more about Burns's birthplace and its Brig O' Doon, visit Romantic Alloway.
Covenanter Martyrs
Alexander Linn
Galloway is a land of both beauty and starkness. It is also, like most of Scotland, a land of both tragedy and triumph. Seeking a 300-year-old tomb, we drove the narrow, unpaved Southern Upland Way and hiked up the rocky, sometimes boggy moor of Craigmoddie Fell. The place was described in the 19th century by Rev. William Mackenzie as "a bleak, romantic spot". We looked for the stone wall enclosure that Ranger Mearns had told us surrounds the grave. Arriving at the first structure that caught our eye, we saw that it was an ancient, stone sheep pen. Had it belonged to the man whose grave we sought? We headed back down a bit and looked up in a slightly different direction. There was something else ... We walked toward it, hoping it was the object of our quest ...
| | | | |
| --- | --- | --- | --- |
| A Sheep Pen | There ... | The Tomb | Sheep Still Graze |
Original 1685 Stone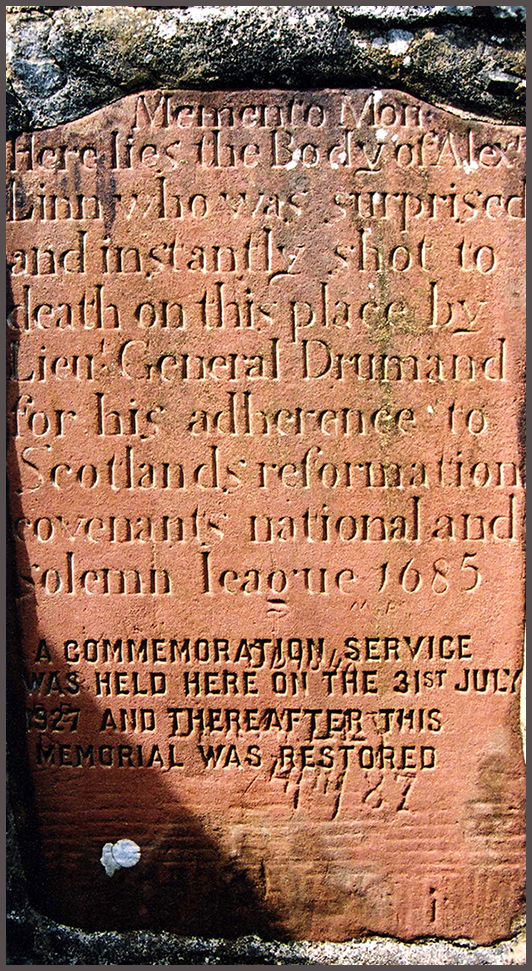 In the spring of 1685, a simple shepherd from Derry Farm named Alexander Linn was tending his sheep on the moor on Craigmoddie Fell. He sat reading a pocket Bible, and it was the peak of the Killing Time.

Lieutenant-General Wm. Drummond, whose brutal, relentless pursuit of Covenanters had earned him the name "Herod" Drummond, was leading his men across southern Ayrshire.

As the company advanced toward Galloway, a flock of lapwings flying in the distance suggested that some danger threatened the birds' nests. Suspecting the cause of their distress was human, Drummond led his men across the Ayrshire border. Approaching the fell, they saw Linn and circled around to take him by surprise.

When they found him reading a Bible, Drummond decided that was cause enough to condemn him. At that point in history, you see, people were forbidden to own Bibles and were directed instead to obtain instruction in the scriptures directly from priests. A Scottish shepherd in possession of a pocket Bible therefore surely must be a Presbyterian. Alexander Linn was ambushed, shot, and killed for his faith.
When Linn's lifeless body was found, he was buried on the spot where he had died and the place was marked by a memorial stone. Over the succeeding 300 years, six memorial services were held at the tomb, the stone enclosure was built, and two additional, commemorative gravestones were added. The last service at Linn's tomb ~ 1985 ~ marked the 300th anniversary of his death.
On that spring day in 1685, what words of God were last on the heart and mind of Alexander Linn as he read the Word? What promises ushered him into his heavenly home as he left his earthly abode? Inside his tomb's enclosure, a rose is growing. On the hills around, sheep still graze.
Daniel McMichael
In the village of Durisdeer, on the western edge of the Lowther Hills in Dumfriesshire, is a fine stone kirk built by the first Duke of Queensberry in the late 17th century. The Duke and Duchess both are buried in the kirkyard, but the grave pictured here is that of a martyred Covenanter. His epitaph consists of two parts on a single stone, the first inscribed in one direction and the second perpendicular to the first. The first records the place, cause, and year of his death, along with a Bible reference. The second delivers a striking message :
"DANIEL McMICHAEL, MAR-TYR SHOT DEAD AT DALVEEN BY SIR JOHN DALYEL FOR HIS ADHERE-ING TO THE WORD OF GOD, CHRIST'S KINGLY GOVERN-MENT IN HIS HOUSE: AND THE COVENANTED WORK OF THE REFORMATION AGAINST TYRANNY PER-JURY AND PRELACY. 1685. REV:12·1[0?]

"AS DANIEL CAST WAS IN LYONS DEN FOR PRAYING UNTO GOD AND NOT TO MEN SO LYONS THUS CRUELLY DEVOURED ME FOR BEARING WITNESS TO TRUTH'S TESTIMONY. I REST IN PEACE TILL JESUS REND THE CLOUD AND JUDGE TWIXT ME AND THOSE WHO SHED MY BLOOD."

Behind the original flat stone is an upright commemorating a memorial service that was held 57 years after McMichael's death.


| | | |
| --- | --- | --- |
| | Alba Gu Brath ! | |